Stroke Riskometer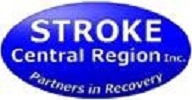 We are proudly working with Stroke Central Region Inc., Paraparaumu, Kapiti Coast, New Zealand. Professor Valery Feigin was appointed as their Medical Director in 2019.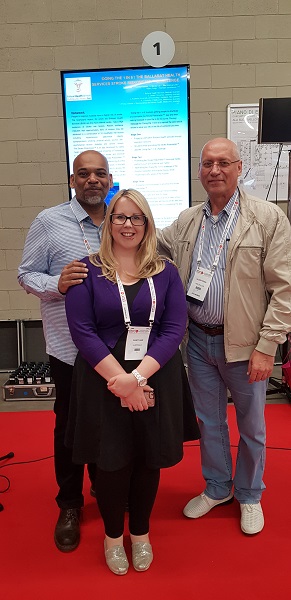 Valery Feigin (AUT University) together with Ramesh Sahathevan (University of Melbourne) and Casey Hair (Ballarat Health Services) presenting a poster on the Stroke Riskometer at the ESOC 2019 Conference, Milan, May 2019.
Relevant articles relating to the Stroke Riskometer, by NISAN team members
Krishnamurthi, R., Hale, L., Barker-Collo, S., Theadom, A., Bhattacharjee, R., George, A., Parmar, P., . . . Feigin, V. (2018). Mobile technology for primary stroke prevention. Stroke, 50, 196-198. doi:10.1161/STROKEAHA.118.023058
The authors (world-renowned stroke/CVD experts) hope that this paper will be a game changer in primary stroke and CVD prevention in the world. Feigin, V.L., Norrving,B., & Mensah, G.A.(2017). Primary prevention of cardiovascular disease through population-wide motivational strategies: Insights from using smartphones in stroke prevention. BMJ Global Health 2017;2:e000306. doi:10.1136/bmjgh-2017-000306.
Béjot, Y., Giroud, M., & Feigin, V. L. (2017). French version of the Stroke Riskometer™ App: A new tool to reduce the burden of stroke. In Revue Neurologique (Iss. 4). Elsevier Masson. doi:10.1016/j.neurol.2017.01.399
Parmar, P., Krishnamurthi, R., Ikram, M. A., Hofman, A., Mirza, S. S., Varakin, Y., . . . For Stroke Riskometer Collaboration Writing Group. (2015). The Stroke Riskometer(TM) App: Validation of a data collection tool and stroke risk predictor. International Journal of Stroke, 10(2). doi:10.1111/ijs.12411
Did you know 1 in 6 experience a stroke in their lifetime? Up to 80% of strokes are preventable and a tool has been developed to help you. .
Developed in collaboration with international leaders in stroke prevention, Stroke RiskometerTM app is an award winning and easy-to-use tool for measuring your individual risk of a stroke in the next five to ten years. The Pro version will also supply essential information on how you can reduce the chance of stroke.
The Stroke Riskometer is endorsed by the World Stroke Organization.
Stroke Riskometer is available on AppStore and GooglePlay
Click here for details of the Pro version and how to download it.
You can also elect to join an international research study, RiBURST, where you can submit your data to help us better understand stroke, its risk factors and develop global prevention strategies.

The Stroke Riskometer is able to calculate your risk through evaluating a series of risk factors such as age, gender, ethnicity, lifestyle and other health factors that directly influence your likelihood of a stroke within the next five and ten years.
Identifying stroke risk: Professor Valery Feigin
Here's some more information about the Stroke Riskometer:
*Based on research
*The free version of the app is endorsed by:
- The World Stroke Organization
- European Stroke Organization
- World Federation of Neurology
- International Association of Neurology and Epidemiology
It is able to factor in modern lifestyle and hereditary risk factors
It will monitor your risk as you start to modify your personal risk factors
The app is suitable for ages 20 to 90+ years old
Learn about the four key signs of a stroke – F.A.S.T