Max Abbott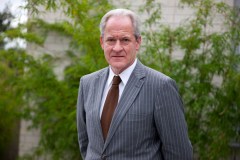 - Dean, Faculty of Health and Environmental Sciences

- Pro Vice-Chancellor, North Shore and Community
"Prior to joining AUT I was National Director of the Mental Health Foundation and President of the World Federation for Mental Health - positions involving advocacy and service provision to improve the lives of people experiencing mental health problems.
"I came to AUT to lead the development of a Faculty that would contribute significantly to the knowledge base for effective health policy and practice and prepare health and related professionals to make a positive difference to the communities they serve. The Faculty has become New Zealand's largest and most diverse health science education provider.
"Our graduates enter professions in high demand throughout the world and our postgraduate programmes prepare graduates and established practitioners for health-related leadership roles. Staff and student research in the Faculty contributes to basic knowledge and enhances practice."
Profile:
Professor Max Abbott
BSc, MA(Hons), PhD, DipClinPsych, MNZCCP, MRSNZ
Max Abbott is Dean of the Faculty of Health and Environmental Sciences and Pro Vice-Chancellor at Auckland University of Technology's North Shore Campus, where he is also Professor of Psychology and Public Health and Co-director of the National Institute for Public Health and Mental Health Research. The Faculty has approximately 450 staff and over 7,000 students, five national research institutes and a variety of specialist clinics and services. Prior to becoming Dean in 1991 he was the founding National Director (CEO) of the Mental Health Foundation of New Zealand, a position he held for ten years.
Max, a registered psychologist, is Past President (1991-1993) of the World Federation for Mental Health, the world's leading mental health NGO embracing professional, voluntary, consumer and family organisations from over 100 countries. A Board member from 1985 to 2003, he co-chaired (with the Director-General of WHO) the first World Mental Health Day and is currently Senior Advisor on Collaborating Centres. Max is also a life member and past Area Chair of the International Council of Psychologists.
In addition to distinguished academic and non-governmental leadership careers, he has worked as a clinical and community psychologist in the public health sector in Christchurch. He also established the staff and student counselling service at Lincoln University.
Max has been, and continues to be, a member, consultant or advisor on a number of national and international organisations and advisory bodies relating to health, education, justice and social development. A government appointee on the Victims Task Force (1987-1993) and Television Violence Project Working Group (2003-2004) he also served on specialist committees of the NZ Planning Council, Alcohol Liquor Advisory Council, NZ Ambulance Board, and NZ Qualifications Authority. Among many other roles, he was a founding trustee of the NZ AIDS Foundation, Positive Parenting NZ and Compulsive Gambling Society, and foundation member of the Health Promotion Forum, National Refugee Action Group, Gambling Addiction Services Council and National Committee on Problem Gambling Management.
His career includes over 35 major research projects and organisational leadership in a similar number of international and national conferences. Current research includes Pacific Island child and family health, migrant health and problem gambling. His publications, conference presentations, seminars, workshops, submissions and addresses, and radio and television appearances total in the many hundreds. He was awarded the 1990 NZ Commemoration Medal for services to NZ and was the inaugural recipient of the NZ Psychological biennial award for psychology in the public interest.
Contacts:
Professor Max Abbott
Pro Vice Chancellor AUT's North Shore CampusDean, Faculty of Health and Environmental Sciences

Ph: (09) 921 9894
Email: max.abbott@aut.ac.nz

EA to Professor Abbott

Barbara Coetzer
Ph: (09) 921 9999 ext 7131

Email: barbara.coetzer@aut.ac.nz